If you're shopping for pickups for sale in Louisiana, make Red River Chevrolet your first and last stop, as we have a great selection of 2022 Chevy Silverado 1500 trucks for you to fall in love with. Our team of experts can help you compare the new Silverado vs. 2022 Ram 1500, Ford F-150 and other trucks to see why Chevy is the best fit for you. Schedule a test-drive at our Chevrolet dealership in Bossier City and experience the incredible power of the 2022 Silverado engine firsthand. We're sure you'll know it's the right truck for any task at hand.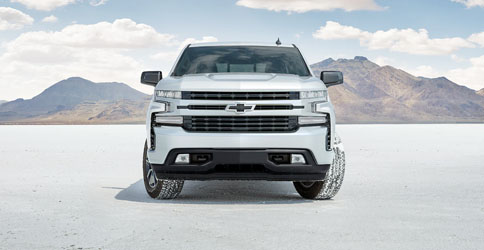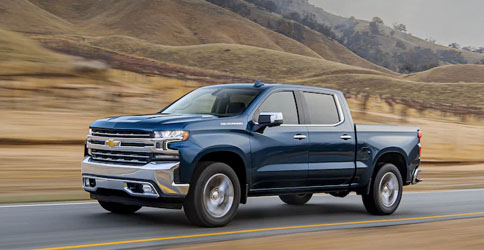 2022 Chevrolet Silverado Engine Specs vs. the Competition
There are so many reasons to choose the 2022 Chevy Silverado vs. other pickups on the market. Between the reliable Chevy reputation, incredible performance and an impressive new Silverado engine that offers up to 420 horsepower, you can't go wrong. Whether you choose the available 5.3-liter V8 or the 6.2-liter engine, you'll have the strength you need to tackle any tough job ahead. When going toe-to-toe, the Silverado 1500 vs. F-150 and Ram 1500 is a match that the Silverado easily wins. Test-drive a 2022 Chevy Silverado in Bossier City today and you'll be convinced.
| Features | 2022 Chevrolet Silverado 1500 | 2022 Ford F-150 | 2022 Ram 1500 |
| --- | --- | --- | --- |
| Max V8 Horsepower (hp) | 420 | 400 | 395 |
| Max V8 Torque (lb-ft) | 460 | 410 | 410 |
| Max Diesel Horsepower (hp) | 277 | N/A | 260 |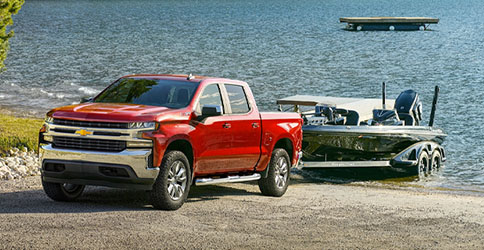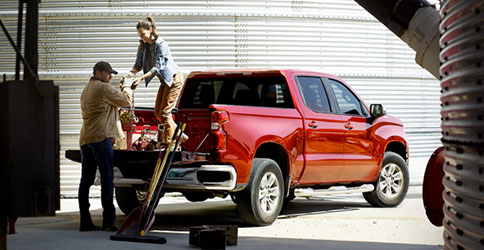 2022 Chevrolet Silverado Towing Capacity & Trailering Technology
Need to haul heavy loads throughout Louisiana? Trust the 2022 Chevy Silverado 1500 to handle the job. While the base Silverado towing capacity is 9,500 pounds when properly equipped, this Chevy pickup can tow up to 13,300 pounds. Neither the Ford F-150 or Ram 1500 can provide that same level of capability, making Chevy the obvious choice. Plus, Chevy has thought of everything when it comes to trailering technology, including eight available cameras with 15 camera views, so you're never worried if the load is traveling well. Impressed? Hold onto your hat because the best Chevy trailering feature yet is Super Cruise™, which is a semi-autonomous driving tool that makes long hauls easier than ever. Visit Red River Chevrolet to experience this jaw-dropping technology!
Features
2022 Chevrolet Silverado 1500
2022 Ford F-150
2022 Ram 1500
CCV4
Diesel Towing Capacity (lbs.)
13,300
N/A
12,560
V8 Towing Capacity
13,300
13,000
12,750
Hands-Free Towing on Compatible Roads
Available
N/A
N/A
Total Camera Views
15
7
5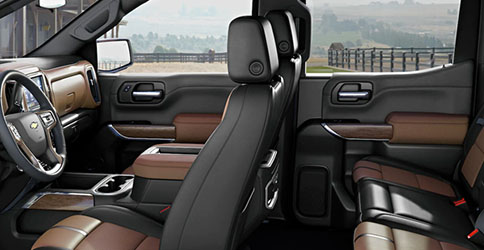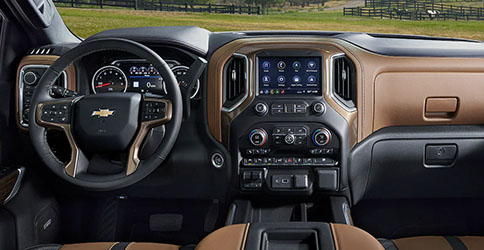 2022 Chevy Silverado Interior Features & Technology
Louisiana Chevrolet fans are thrilled with the upgraded 2022 Chevy Silverado interior cabin, which boasts premium, durable materials and top-tier technology. Offering a larger touchscreen than the competition, the new Silverado pickup has a driver-centered cockpit that's intuitive and responsive. Plus, you'll feel confident behind the wheel with the Chevy Safety Assist™ suite of driver-assistive features that have your back. While this Chevy truck, for sale in Bossier City, is rugged on the outside, you'll be relaxed within a plush cabin.
| Features | 2022 Chevrolet Silverado 1500 | 2022 Ford F-150 | 2022 Ram 1500 |
| --- | --- | --- | --- |
| Max Touchscreen Display Size (in.) | 13.4 | 12 | 12 |
| Standard Suite of Active Safety Features | Chevy Safety Assist™ | Ford Co-Pilot 360™ | N/A |
| Multifunction tailgate | Available | N/A | Available |